Find by Our Browser Links
Our broswer links provide a quick and easy way to find your classic car based on popular searches, common categories and auto makers. This is a great way to find results if you're not too concerned about sepcific details, and just want to see a robust library of classic vehicles.
Find by ClassicCars.com Vehicle Listing Number
Instantly transport yourself to the Vehicle Details page of any listing by entering the ClassicCars.com Vehicle Listing Number.
How it Works:
Each listing has its own unique ClassicCars.com Vehicle Listing Number and is found below the vehicle title in any search results listing, as well as on any vehicle details page at the very top of the vehicle details table. Use any word or note editor program to keep track of the cc-numbers (listings) you want to return to. You can also go to the listing's vehicle details page and save any listing as a favorite, and then access it through your account menu.

Search Result Item.

Vehicle Details Page.
If you listed with us, you can find your CC Vehicle Listing Number by logging into your account and going to My Account/MyListings from the top menu. In each of your listings, you'll find the number in the "Vehicle" column.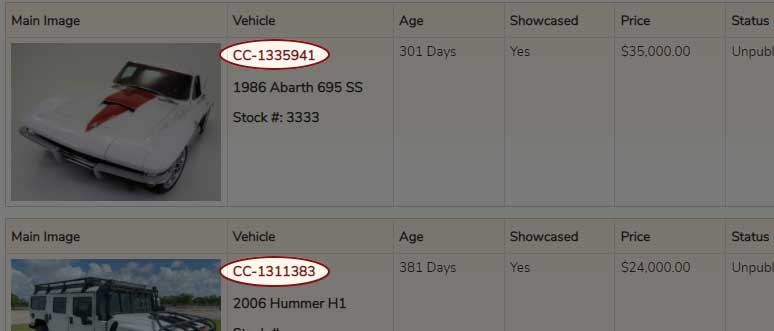 If you have any of the CC-Numbers organized, or simply have some memorized, enter one in the field above to be teleported to the description and details of the vehicle.